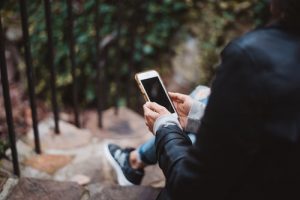 Does your child have a social life or "social media life"?
Yes, you should be concerned about the amount of time your child is connected to their phone, video games, and tablets to the exclusion of what would be considered healthy, face to face interaction.  As parents, it is often difficult to know what the right amount of non-personal interaction should be. There is no rulebook, but there are studies that show the negative impacts of excessive non-personal interaction.
As parents, we must acknowledge that our children's world is so very different than the world we experienced at their age. We are not going to change the new "normal", but we can understand the role technology plays in today's world and gain an understanding of how our children are impacted. We have a choice: to completely give in or to educate ourselves and learn how to set healthy, livable boundaries and rules for our children.
In a recent conversation with parents, they expressed that one app that self-erases is the "world's worse invention."  Their concern was that "we are teaching our children that it is ok to hide conversations and media that are absolutely not appropriate and potentially harmful to themselves or others."
At Clermont Behavioral Health's therapy for teens, we can help identify if there is a need to be concerned and help establish a healthy relationship with technology. With the expected resistance, we can help both you and your child develop an appreciation for the positive and detrimental aspects of technology.
Click here to read more about the secret media life of teens.
Stress and anxiety and your child
1 out of 4 kids can be identified as having a stress-related disorder and up to 80% are not getting the help that they need.
Click here to read more statistics about anxiety.
At Clermont Behavioral Health, we can help you understand how stress and anxiety impact just about every part of your child's life every day.  School performance, relationships with friends and family, disordered eating, substance use, defiant behavior, depression, motivation, risk-seeking activity, isolation, suicidal ideation, and other negative behaviors can severely impact your child's level of functioning.
Most kids understand that they are not functioning well, but are just not equipped to effectively help themselves in a positive and healthy way. Anxiety and stress are often gateways to self-medicating, leading to substance abuse and other destructive behaviors.
Early intervention can help your child understand that there is way out of their feelings and move towards a happier more fulfilled life.
It is very important to identify where your child's stressors come from and critically important to understand the role of the family as a source of stress.  All stress cannot be eliminated from your home, but we will endeavor to reduce stress and anxiety where possible.
Journaling can be a powerful tool to help children cope with anxiety, depression, and other emotional issues. 
Bullying
Sit back and imagine how easy it is in today's world to bully or be the victim of bullying. Bullying is real and affects nearly everyone as a witness, antagonist, or friend of someone who has been bullied. Emotional Bullying and self-harm are very connected and should be taken very seriously.  When your child's once healthy self-esteem and self-worth is challenged, their world changes in many negative ways that can result in depression and self-destructive behaviors.
Enroll your child in therapy for teens
If your teenager appears to be struggling at home or school, Clermont Behavioral Health can help.
Call today for a complimentary consultation, or just fill out the contact form and click Send.
Please share this post!